CBD Cooling Gel
$22.99 – $69.99 — or subscribe and save up to 30%
SUPA Naturals CBD Cooling gel features 55mg, 500mg, and 1000mg THC-free CBD isolate blended with potent active botanicals. This on-the-spot topical gel has a pleasant menthol scent that immediately cools joints, muscles, or whatever body part needs it. Use this gel daily or as required for immediate whole-body pain comfort and relaxation.
Our CBD Cooling gels come in four variations:
0.5 oz (15mL),
1.7 oz. (50 ml),
3.0 oz, (90ml) – Roll-On,
3.4 oz (100ml)
and contain 7-10mg CBD per pump, for adults only, and packaged in child-resistant, BPA-free bottles.
For convenient hands-free use we also offer a 3oz (90mL) roll-on bottle.
Total Usage (55mg): 6-9 pumps per bottle.
Total Usage (500mg): 50-60 pumps per bottle.
Total Usage (1000mg): 100-120 pumps per bottle.
Description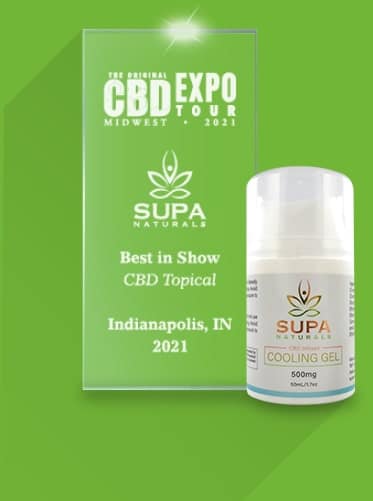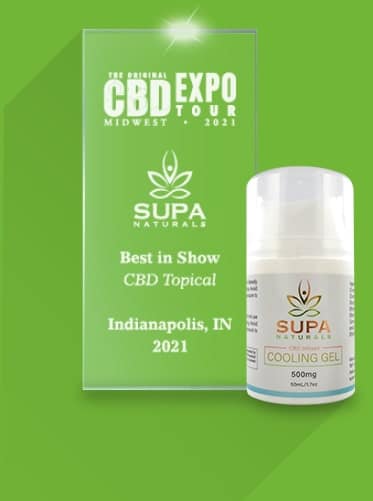 SUPA Naturals CBD Cooling Gels are THC-free CBD isolates made with CBD-rich hemp strains that contain no psychoactive THC. All the hemp used in our cooling gels are organically-farmed, pesticide-free, and non-GMO and sourced from the farming state of Kentucky, USA.
500mg and 1000mg of THC-free CBD isolate typically infuse our CBD cooling gel, smoothly going onto the skin to provide immediate cooling relief to your stiff joints and muscles. The effects of the CBD extract are felt later for whole-body relaxation.
This gel has a refreshing menthol smell, which we make with our high-spec THC-free CBD isolate, menthol, and camphor bark oil in an aqueous suspension. We also use supercritical CO2 extraction to make our CBD gel potent and pure and ensure that our products contain no heavy metals, residual solvents, or other harmful impurities like mold and bacteria.
SUPA Naturals Cooling gels are available in menthol scent each delivers 7-10mg THC-free CBD isolate per pump, in three sizes:
The 55mg product bottle contains 0.5 fl. oz. (15 ml) and can provide 6-9 pumps per bottle.
The 500mg product bottle contains 1.7 fl. oz. (50 ml) and can provide 50-60 pumps per bottle.
The 1000mg product bottle contains 3.4 fl. oz. (100 ml) and can provide 100-120 pumps per bottle.
This product is perfect for joint and muscle support and healing for active persons or professional athletes who regularly partake in exercise. Use it at the end of the day, after a workout session, or to alleviate stiffness caused by joint or muscle pain, or chronic conditions like rheumatoid arthritis or juvenile idiopathic arthritis.
SUPA Naturals products all undergo third-party laboratory testing from one of the leading independent hemp and cannabis testing US laboratories to verify that our product ingredients.. We also follow strict FDA and GMP standards to keep our product quality high.
For optimal results, apply a small amount of gel to your legs, neck, back, or wherever you need it, and gently massage for an immediate cooling effect. Do not apply near or on your eyes or mucous membranes.
Ingredients
Distilled Water, Menthol, Cinnamomum Camphora (Camphor) Bark Oil, Propylene Glycol, Sodium Polyacrylate, Ethylhexyl Cocoate, PPG-3 Benzyl Ether Myristate, Polysorbate-20, Cannabidiol (CBD), Phenoxyethanol, Sorbic Acid, Caprylyl Glycol, Ethylhexylglycerin.
CDB Cooling Gel FAQ
1. What are CBD cooling gels?
CBD cooling gels, also known as CBD muscle gels, contain THC-free cannabinoids, menthol, and organic herbal plant extracts. They are specially formulated for transdermal use to provide targeted pain and stiffness relief on muscles and joints.
2. What conditions can CBD cooling gels treat?
These gels are excellent for rapidly relieving pain and stiffness in ankles, muscles, wounds, swelling, and rheumatism. They also work to alleviate the fatigue of exercise and other forms of physical exertion.
3. Can the skin absorb the CBD extract in CBD cooling gels?
When CBD cooling gel gets applied directly to the skin, the skin's surface absorbs it and interacts with the skin's cannabinoid receptors providing relief. However, any CBD absorbed does not reach the bloodstream.
4. How long does topical CBD stay in the body?
CBD delivered through the skin can stay in your body for 2-5 days. However, it is essential to remember that this range doesn't apply to everyone, as some people can retain topical CBD in their bodies for weeks.
5. How long does CBD cooling gel take to work?
CBD cooling gel effects may be felt anywhere from 15 to 45 minutes, depending on the dose.
6. Can athletes use CBD cooling gels?
Research studies suggest that CBD cooling gels effectively help relieve pain and reduce inflammation in athletes, which could prove useful for athletes who undertake intense exercise. However, remember that while THC is highly effective in treating pain, it may also cause side effects that can affect athletic performance.
7. Are CBD cooling gels illegal?
No. THC-free hemp-derived CBD products have been considered legal by the federal government since the passage of the Farm Bill in late 2018. Check the legality of your CBD product in your state before buying.
8. What product testing has my CBD cooling gel has undergone?
The FDA does not regulate CBD products, including CBD cooling gels.
SUPA Naturals cooling gels are independently verified through third-party lab-testing and contain only the ingredients listed on the packaging. This information is available on our company website.
View Lab Results for Cooling Gel (55mg)
View Lab Results for Cooling Gel (500mg)
View Lab Results for Cooling Gel (1000mg)
Related
Additional information
| | |
| --- | --- |
| Weight | N/A |
| Dimensions | N/A |
| Strength | 55mg, 500mg, 1000mg / 3.4oz, 1000mg / 3oz |
Related products
Rated 5.00 out of 5

Earn 29.99 Reward Points




$

29.99 –

$

69.99

—

or subscribe and save up to

30%

$

59.99

—

or subscribe and save up to

30%

Rated 5.00 out of 5

Earn 72.99 Reward Points




$

34.99 –

$

72.99

—

or subscribe and save up to

30%