Tattoos allow you to express your artistic style and unique passions, though getting one can be a very painful experience. The pain of the initial tattoo session and the healing process deters many from getting their desired ink. While various numbing creams exist, many won't last throughout the tattooing process or provide pain management during the recovery process.
Clinical research shows that using CBD oil can reduce pain while offering anti-inflammatory properties, making it an excellent option for tattoo pain relief and healing process improvements. At SUPA Naturals, we aim to help people understand how CBD works so everyone can enjoy its vast health benefits. Below, we discuss how CBD products can reduce pain signals and improve the tattoo healing process, so you can prepare for your next tattoo.
How Can CBD Help You Prepare for Getting a Tattoo?
While pain, nerves, and jitters are all perfectly normal aspects of the tattooing process, they can dampen your experience and potentially impact your tattoo's outcome. Physical pain from the tattoo appointment and internal anxiety related to the process may cause slight tremors and muscle tension that can prevent your artist from achieving perfectly straight lines at the right skin depth.
CBD products can help you prepare for a tattoo because they offer calming effects. Your endocannabinoid system relies on a vast network of neurotransmitters binding to cannabinoid receptors. The cannabis plant produces cannabinoids that can signal and control central nervous system responses, affecting pain receptors and resulting in whole-body mental and physical effects.
One effect includes CBD's ability to boost your brain's GABA activity, reducing stress and anxiety. Increased GABA neurotransmitters tell your body to dial down stress responses. Lower cortisol levels from improved stress responses can reduce swelling while providing muscle relaxation and overall calming effects that can help you sit still while getting a tattoo.
Reduced nerves and jitters during your tattoo session from CBD intake can offer cleaner results and a more enjoyable experience.
Benefits of CBD for Tattoo Pain and Healing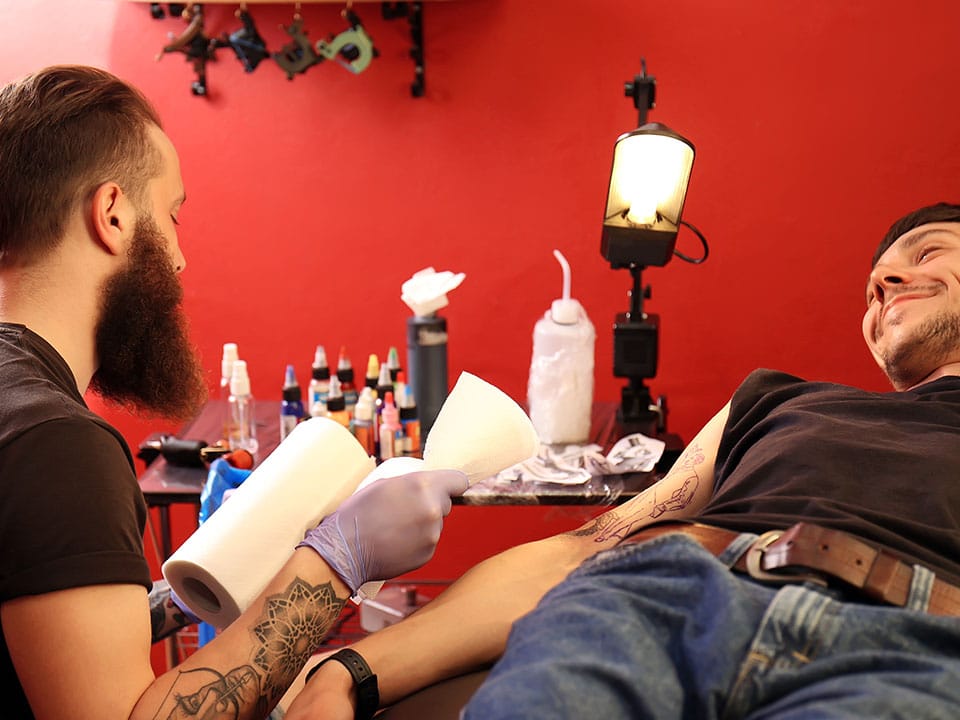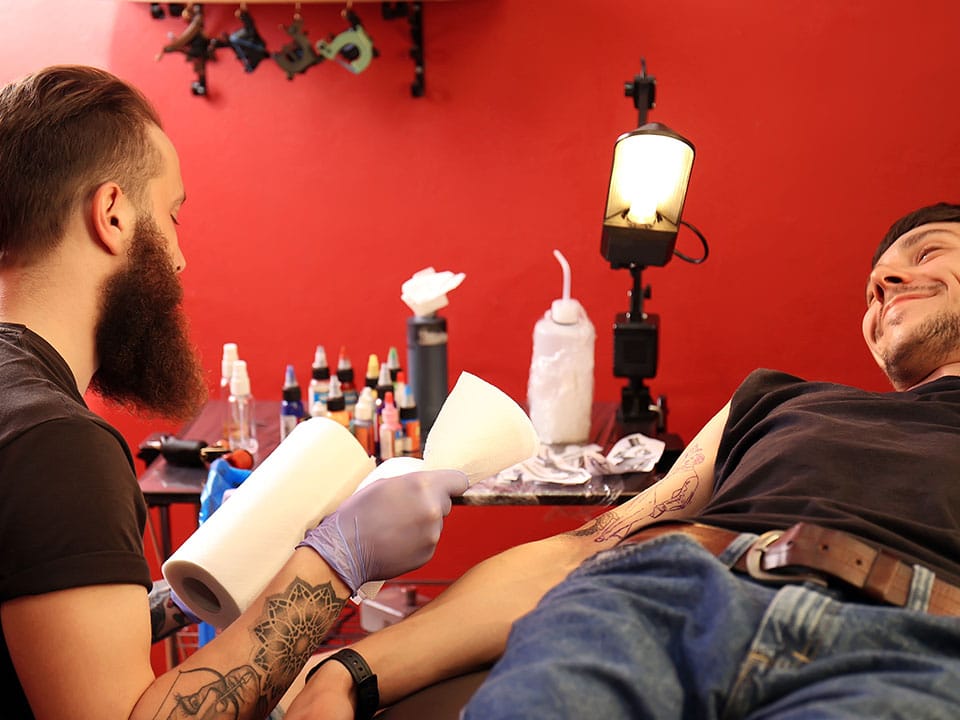 While CBD can aid in anxiety relief before your tattoo session, its primary benefit may be pain relief during the tattooing process. Tattoos cause pain because the artist injects ink using needles that enter deeper layers of the skin, resulting in localized swelling, redness, and scarring. The tattoo area is an open wound on a thin layer of your skin that takes weeks to properly heal and close, meaning you will likely feel pain for longer than just the initial appointment.
So, how can CBD help with tattoo pain and healing?
Pain Relief During the Tattooing Process
CBD has analgesic properties that can offer pain relief. Clinical research shows that CBD could substitute strong pain reliever medications, offering relief without harsh side effects or prescription requirements.
For example, in a clinical efficacy study, a group of 29 patients suffering from neuropathic pain received CBD treatments or placebo supplements. The CBD groups experienced substantial pain management results over the control group. In another study, clinical evidence supported CBD's ability to reduce chronic pain via increases in anandamide, the compound in charge of blocking pain.
Many tattoo artists advise against certain pain management tactics, like alcohol, as such substances can alter your state of mind. CBD manages pain without such mind-altering effects, making it a popular recommendation among many tattoo artists.
Anti-inflammatory Properties for Improved Healing
After your tattoo session, your body responds to the new ink as a wound, kicking your inflammatory response into high gear. While swelling is normal with a fresh tattoo, excess inflammation feels uncomfortable and can inhibit the healing process and affect the artwork's final outcome. Extreme pain and inflammation may even result in ink rejection, causing severe reactions.
Your skin, immune system, central nervous system, and pain responses communicate using endocannabinoid receptors. CBD can interact with these receptors, offering anti-inflammatory effects that reduce redness and make post-tattoo care easier. Reducing inflammation during tattoo aftercare can also help your new tattoo come out cleaner.
Anti-bacterial Properties for Skin Health
Because tattoos are open wounds, you're at risk of infection. A critical aspect of tattoo aftercare is keeping your skin clean and moisturized to stave off dangerous pathogens. CBD tattoo aftercare can fight infection-causing bacteria, offering a healthier healing environment.
Antioxidant Properties To Reduce Tattoo Fading
As your tattoo heals, you must continue following a skin-care regimen to prevent fading. Things like UV damage or a buildup that clogs pores can impact your tattoo's appearance.
CBD has cell-repairing properties that can improve your body's ability to heal from wounds. Topical CBD products can protect your skin's oil barrier, improving skin moisture and health. When combined with other skin-care products, like vitamin E, CBD tattoo aftercare can improve the healing process, reduce potential fading, block pores from clogging, and more.
Is CBD Safe To Take When Getting a Tattoo?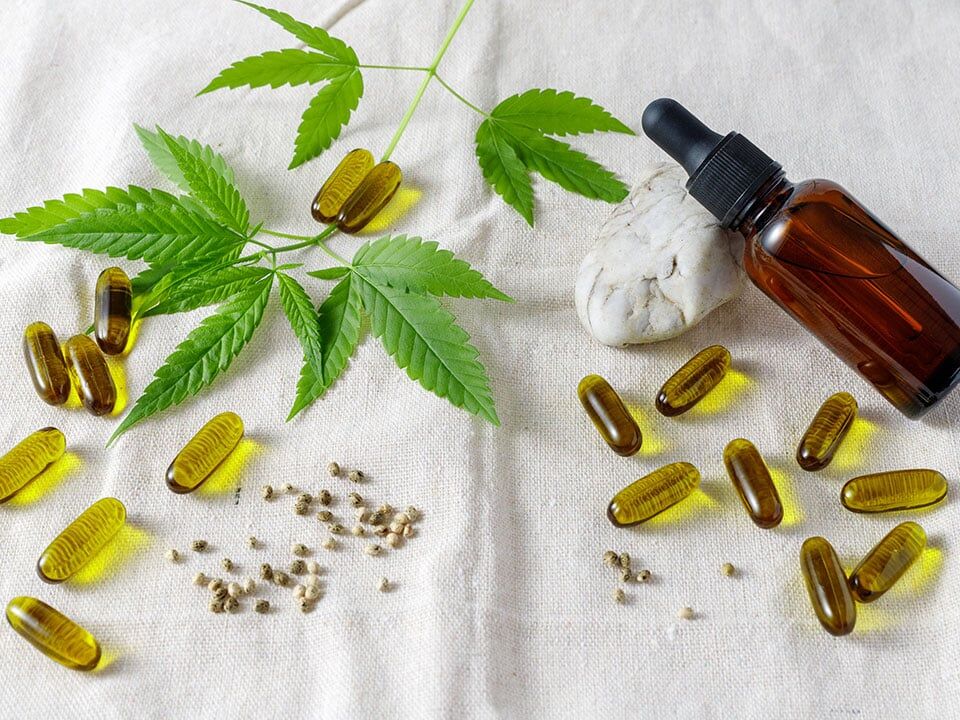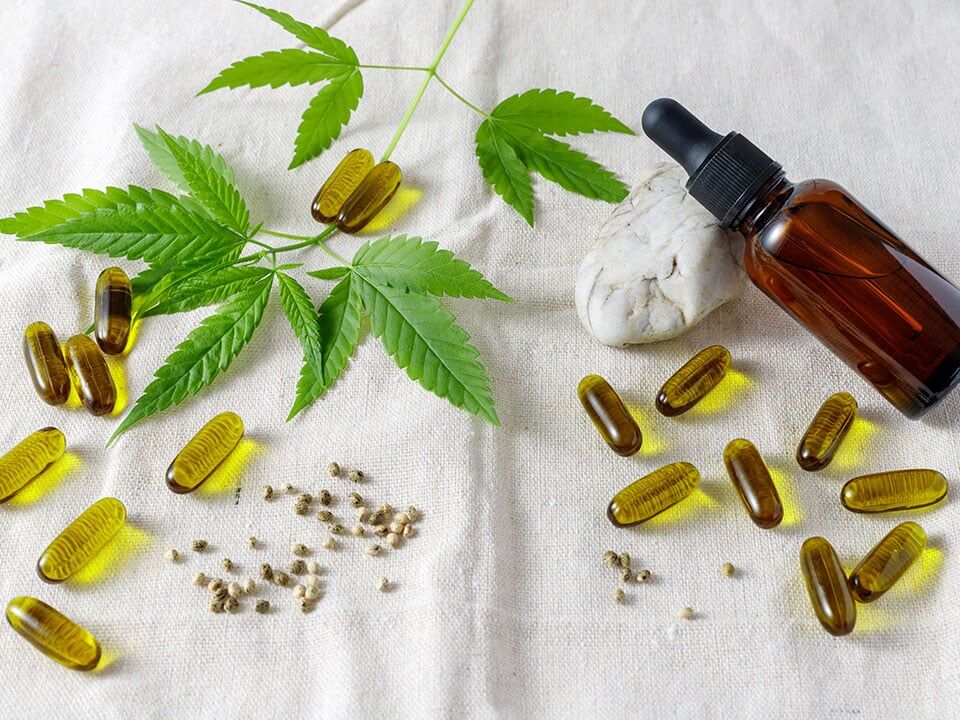 Yes, using CBD before, during, and after your tattoo appointment is entirely safe. In the clinical study mentioned above with 29 patients, none of the participants receiving CBD experienced any adverse effects.
Broad-spectrum CBD oils that don't contain THC will not alter your state of mind or create any "high" feelings. Even a full-spectrum CBD product only contains trace amounts of THC, offering benefits from the compound without adverse effects.
If you have any pre-existing medical conditions, take prescription medications, or have concerns, consult your doctor before using CBD oil.
Do Tattoo Artists Approve?
Every tattoo artist has preferences. For example, certain tattoo studios recommend petroleum jelly for tattoo aftercare, while others believe it traps bacteria. Additionally, the size and placement of your tattoo may affect your artist's recommendations based on prior experience.
Many industry professionals vouch for CBD oils, though we recommend speaking with your tattoo artist before the appointment. Your tattoo artist may offer insights on the best type of CBD oil to take, when to use it, and how to incorporate it into your tattoo aftercare regimen.
How To Take CBD for Your Tattoo
Now that you know how CBD oil can improve the tattoo aftercare and healing process, it's time to learn how to get the most results from hemp plant CBD products.
Best Type of CBD Products for Tattoos
Different CBD oil products interact with your body in varying ways. For example, CBD topicals absorb directly into your skin, while edibles enter your digestive system. The best type of CBD oil products for tattoos depends on your desired results, whether they be pre-appointment anxiety relief, tattoo session pain management, or post-tattoo healing and aftercare.
We recommend the following CBD oil products:
CBD oil or tinctures: CBD oil is a pure form of CBD that comes in a glass bottle with a dropper that you can use for oral applications. CBD oil and tinctures each have a different extraction process and varying levels of bioavailability, though both offer rapid onset speeds and short durations. You can shop online for water and oil-based CBD tinctures from our SUPA Naturals selection.
CBD capsules or edibles: Capsules and edibles contain CBD oil in a digestible form that your body must break down before feeling the results. The prolonged onset and duration times offer convenient day-to-day dosages, allowing the effects to build up in your system. We offer full-spectrum CBD softgels and broad-spectrum THC-free gummies in our online shop.
CBD vapes: CBD vapes allow you to inhale CBD oil for immediate relief. Vapes may be a good choice during your tattoo session for pain management boosts, though check with your shop to ensure that they allow vaping.
CBD topicals: You can purchase a CBD balm, cream, patch, or other topicals for targeted skin absorption. Applying a CBD balm directly on your new tattoo can promote healing by fighting inflammation and locking in moisture. At SUPA Naturals, we offer CBD massage oil, body butter, and cooling gel, all suitable for tattoo aftercare applications.
Be sure that the product you purchase contains CBD. Customers frequently get confused between hemp oil and CBD since they both come from hemp plants, though hemp oil does not contain all the valuable benefits of CBD.
Selecting a CBD Dosage for the Tattooing Process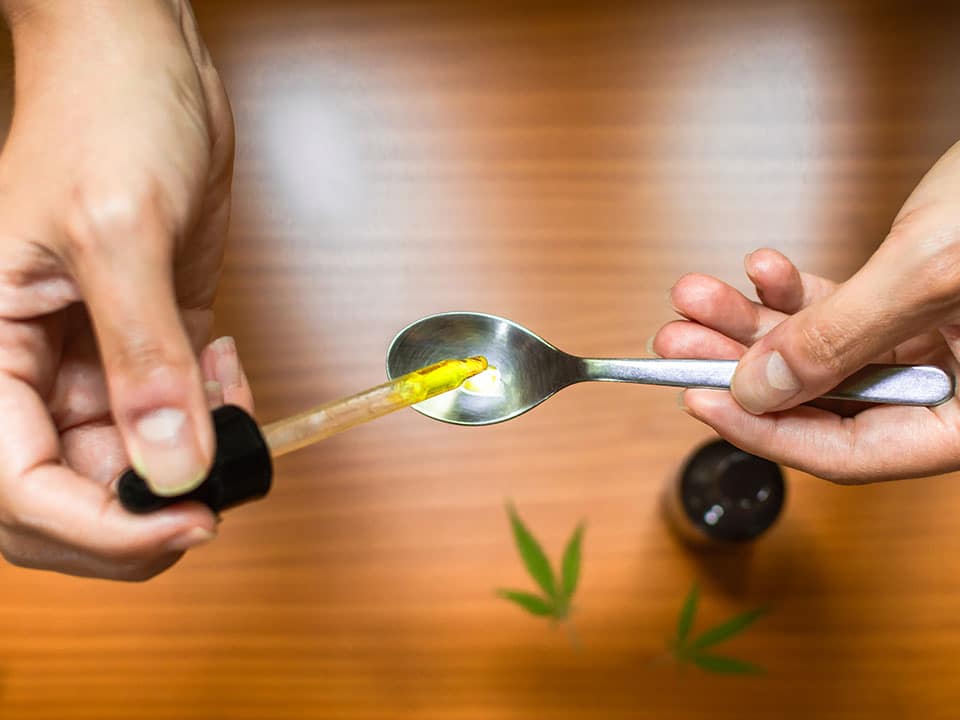 Everyone reacts to CBD oil differently, so finding the right dosage for you can be tricky. Your metabolism, size, exercise level, and preferred CBD oil product can affect how much you need to take for the desired results. Typical clinical research study dosages range from 20 to 250 mg, displaying a wide range of CBD oil potency and effects.
We typically recommend starting small and working your way up until you reach your desired results. You can begin taking CBD a few weeks before your appointment to let the compound build up in your system. Try starting with a smaller dosage of around 10 to 25 mg, then building from there until you feel the calming effects you desire.
How Long Does It Take for CBD To Work?
CBD's onset time depends on the type of CBD oil you consume. As mentioned before, products that must pass through your digestive system will take longer to begin working, though they may offer more sustained results. Topical CBD oil, vapes, tinctures, and other products that don't enter your digestive system typically offer much more rapid onset times, though they won't last as long.
For the most comprehensive results, you can take CBD oil capsules, edibles, tinctures, or vapes on a regular schedule daily for a few weeks before your appointment. Consistent dosing will let the CBD oil build up in your system. On the day of the tattoo, you can continue with the schedule or ingest a CBD oil for instant pain management.
Can You Put CBD Oil Directly on Your Tattoo?
Yes, you can put CBD oil directly on new tattoos for improved healing, reduced inflammation, boosted cell regeneration, and overall pain relief. Different CBD topicals contain moisturizing agents, like vitamin E, that can also aid in healing.
You should ask your tattoo artist how long you should wait before applying CBD oil to your tattoo, as they may recommend waiting for the wound to close. Be sure to check the ingredients in your CBD oil for potential irritants, like perfumes, that could worsen inflammation.
When Is the Best Time To Take CBD for a Tattoo?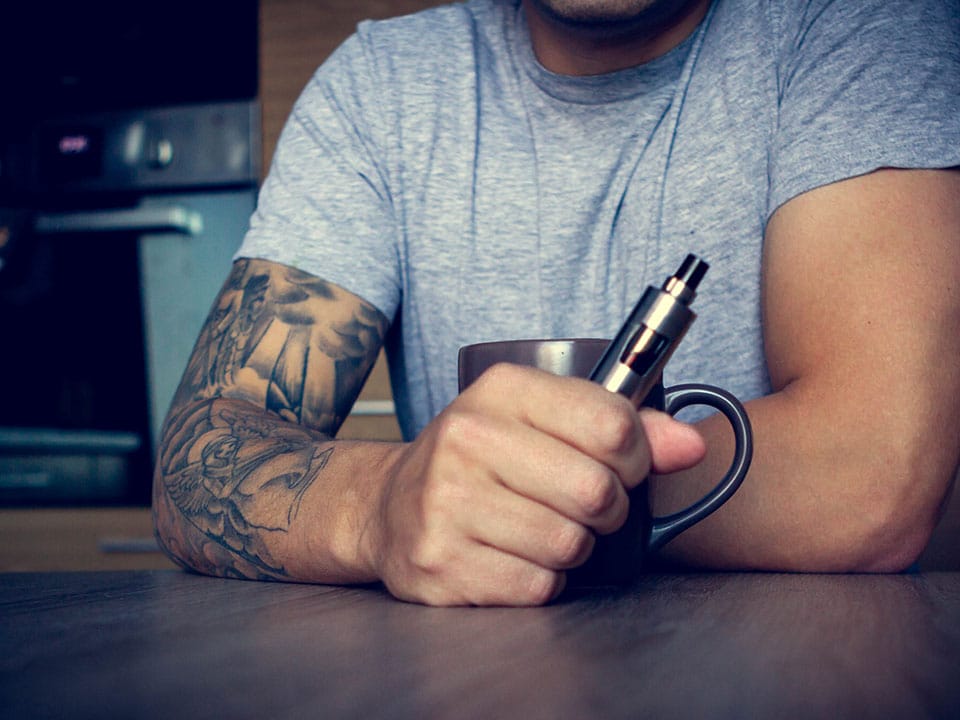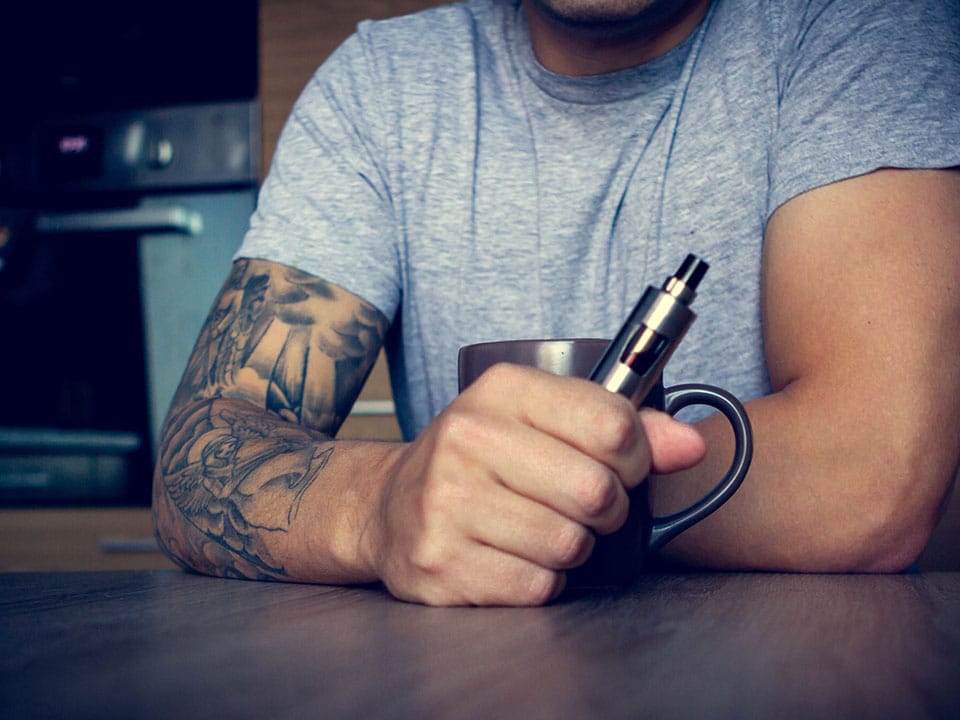 Taking CBD oil for your next tattoo should be a comprehensive process. While taking one dose the day of would provide some pain relief benefits, you can enjoy the best results by following an end-to-end CBD dosage plan.
Before Getting a Tattoo
If you'd like to reduce pre-tattoo jitters and nerves, you should start taking CBD oil a few weeks before your appointment. By starting early, you allow the cannabidiol reserves to build up in your system for maximum results. If you want a convenient option, consider a daily CBD capsule or edible that you can add to your morning or evening routine.
The Day of Getting the Tattoo
On the day of your tattoo, you can continue your established routine, though you may want to introduce a more rapid method if you haven't already. CBD vapes or oils send the compound directly into your bloodstream, offering nearly instant anxiety and pain relief. You can take such products on the morning of your appointment or while sitting in the chair.
Be sure to avoid ibuprofen or other blood thinners before getting your tattoo. Such painkillers can inhibit healing and cause excess bleeding.
Tattoo Aftercare and Healing
After your artist finishes the tattoo, ask them to explain their recommended aftercare steps. Each artist differs, though most will tell you when to remove bandages, how often to clean the tattoo, and when to apply moisturizer.
During the aftercare process, you can continue your daily CBD regimen while cleaning your tattoo as instructed. Expect the surrounding skin to feel sore, inflamed, and hot, as if you'd gotten a sunburn.
After a few days, the initial wound should close, leaving you with something that feels like a dry scab. Once you reach this healing phase, you can begin applying topical CBD products.
During the next few weeks, your skin will continue to feel dry and itchy as the scab peels off. After your skin no longer hurts to the touch and isn't raised, your tattoo is nearly healed. Moving forward, you can continue regularly applying CBD and moisturizer for long-term care.
Where Can You Buy CBD for Tattoos?
If you're interested in purchasing CBD for your next tattoo, you've come to the right place. At SUPA Naturals, we offer a wide range of CBD products, including broad and full-spectrum options, oils, tinctures, edibles, capsules, topicals, and more. Shop online for CBD today, or contact our experts at SUPA Naturals to learn more.
Related